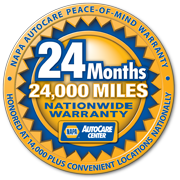 The NAPA AutoCare Peace of Mind Warranty
Covers Parts and Labor on Qualifying Repairs and Services for 24 Months/24,000 Miles.

There's no greater peace of mind than knowing you have one less worry by having your vehicles serviced by the professionals at your local NAPA AutoCare Center. They stand behind their work with the NAPA AutoCare Peace of Mind Warranty.

It's a written warranty that is honored at more than 14,000 locations nationwide - more than any other automotive repair brand.

So - no matter where your travels take you - if you ever experience a problem with a covered repair, you can count on a NAPA AutoCare Center being nearby.



What are the Benefits to You?
Included FREE with your qualifying repair or service work.
Covers parts and labor on qualifying repairs and services for 24 months/24,000 miles.
Extend your coverage to 36 months/36,000 miles when you use your NAPA AutoCare EasyPay Credit Card (applications available at participating locations).
Honored nationwide by thousands of NAPA AutoCare Centers, so you're protected even when you travel.
1-800-LET-NAPA (538-6272)
My car was in the shop and I borrowed my mother's. It died on the highway and Geico was able to get me a tow much sooner than AAA. The driver arrived exactly when he told me he would, and was a very capable, nice, pleasant young man. Cody got into the car, which due to the mechanical issue, locked with the keys inside it and was very empathetic when I explained my issue of PTSD on highways, the result of an accident. He drove carefully, was a good conversationalist and was careful to check my taste in music. I would absolutely recommend this company. They were quick, efficient and have an excellent staff. Thank you!
I had a really good experience, I would highly recommend anyone to use this company. My car was towed with great care, my lower ball joint were broken and I was concerned that they wouldn't be able to put the car on the tow truck. But Luis reassured me that it will be ok and was very polite. He treated my car like it was his.
I've been using Darrell's for 5+ years now. I wish I found them sooner! They're the best Auto Repair shop I've ever dealt with. They're reliable, trustworthy, VERY knowledgeable, and the entire crew are just "good people". They care about their customers and take an extreme amount of pride in what they do. Whether it's routine maintenance, or issues with your vehicle, you can absolutely TRUST they will do a great job. I have 3 children, with a couple older vehicles in the mix and they always make sure they're safe and road ready. For my newer vehicle, I'd been using a dealer for quite some time. After first going to Darrell's through a neighbor's recommendation, I found out the dealer wasn't providing nearly the same level of service that Darrell's does. They go above and beyond to make sure your vehicle is in the best shape possible. Thanks to Darrell, Chris, Leon, Lori and the entire crew!
Brian from Darrell auto service did a wonderful job. They towed my car within the hour and he even told me what the issue was with the car. Very knowledgeable very professional and very nice. I would highly recommend them and will only use them from now on.thanks again Brian for a terrific job...
I want to give a shout-out to Brian who towed my car last night during torrential rain. He was very kind and somehow got me in and out of the tow truck safely. I am almost 72, so this was not an easy feat. He also went beyond the call of duty and put my garbage bin and recyclable bin out near the road for pickup today. I can't thank him enough. And thank you for your service in the Navy.