TECH-NET Professional is an elite performance network where independent service facility members have a common goal of being world-class automotive service facilities. The TECH-NET Professional program provides superior customer service by combining high-quality Advance Auto Parts parts, skilled automotive technicians and innovative consumer marketing programs.
The TECH-NET Professional Mission Statement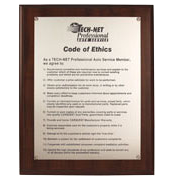 TECH-NET Professional is committed to serving you, our customer, with professional automotive repair at a reasonable cost with qualified technicians. We use quality Advance Auto Parts parts, guaranteed coast to coast. We stand on sound business principles and uphold high ethical standards. Our goal is to make your automotive repair experience friendly and successful.
I want to give a shout-out to Brian who towed my car last night during torrential rain. He was very kind and somehow got me in and out of the tow truck safely. I am almost 72, so this was not an easy feat. He also went beyond the call of duty and put my garbage bin and recyclable bin out near the road for pickup today. I can't thank him enough. And thank you for your service in the Navy.
I want to say a few words about Darrell's Auto Sales and Services: I moved into town early in the year 1985. I encountered a car problem and my previous mechanic was several towns away. Not knowing anything about Wallingford, I went to the original location of Darrell's on East Center Street fully expecting a hassle to get service, as I needed my car quickly to be able to drive to an out of state company meeting the following day. Darrell scheduled my service early AM the next day, as it was around 5 PM that I drove in, and repaired my car. Yes, the service was good but the integrity, communication, and courtesy was, and still is, equally as good. It is now 2018 and I am still going to Darrell's. That in itself should say something. It is a pleasure dealing with Darrell and his extremely competent head mechanic Leonardo (Leo). I do recommend this operation. They really stand behind their work. Thanks guys.